Home
Tags
Biotechnology for communication
Tag: biotechnology for communication
Biotechnology and Communication The Meta-Technologies of Information – Sandra Braman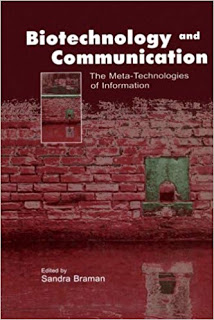 This volume examines the convergence of biotechnology and communication systems and explores how this convergence directly influences our understanding of the nature of communication. Editor Sandra Braman brings together scholars to examine this convergence in three areas: genetic information and "facticity"; social issues and implications; and the economic and legal issues raised by the production and ownership of information. The work highlights the sophisticated processes taking place as biotechnology and information technology systems continue to evolve.
The chapters in this book approach the complex history of this topic and the issues it raises from a number of directions. It begins by examining the shared features and spaces of biotechnology and digital information technologies as meta-technologies–qualitatively distinct from both the tools first used in the premodern era and the industrial technologies that characterized modernity. Next, the book explores what is and is not useful in treating the types of information processed by the two meta-technologies through a shared conceptual lens and looks at issues raised by the ownership of genetic and digital information. The final chapters are concerned with relationships between information and power.
Defining a future research agenda for communication scholarship, this work is beneficial to scholars and students in science communication, cultural studies, information technologies, and sociology.
Following an introductory analysis of each shared meta-technological space, the book examines the impact of biotechnology on how we understand information in human communication, meta-technologies and the law, and communicative dimensions of biotechnology and power. The diversity of perspectives offered by the contributors – who draw on theories from communication, cultural studies, sociology, information science, economics and law – makes clear that informational meta-technologies are transforming the subject matter and context for research and scholarship across the social sciences.
Biotechnology and Communication: The Meta-Technologies of Information
Author(s): Sandra Braman
Series: Routledge Communication Series
Publisher: Routledge, Year: 2004
ISBN: 0805843043