Home
Tags
Biological control of plant diseases wikipedia
Tag: biological control of plant diseases wikipedia
Biological Control of Crop Diseases by Samuel S. Gnanamanickam :: Agriculture has been man's primary occupation since time immemorial. History shows that agriculture has shaped and dictated the fate of many civilizations and that effective disease management has long been a challenge to mankind. Today, in light of growing concerns about environmental safety, suppression of plant diseases through biological agents is gaining ground as a supplement to traditional disease-management strategies. Several groups are actively engaged in research pertaining to the identification of biocontrol agents against specific plant pathogens, with special focus on their deployment on a commercial scale. I was fascinated by the elegant early research that emerged from University of California–Berkeley and Washington State University. This led to my involvement in biocontrol research, and today some of my Indian friends in research circles inform me that I was the first one to introduce Pseudomonas fluorescens for biocontrol research in India in the early 1980s. The first book on biological control, Biological Control of Plant Pathogens, by K. F. Baker and R. J. Cook (published in 1974), and my personal and academic association with Dr. Jim Cook have been sources of great inspiration for developing this volume.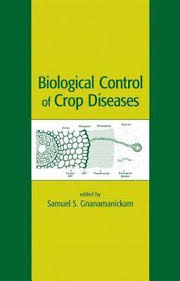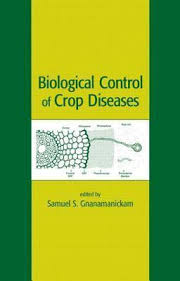 Biological Control of Crop Diseases by Samuel S. Gnanamanickam
Book Description:
With contributions from more than 30 internationally renowned experts, this book combines coverage of theory with coverage of global practices. Highlighting the day-to-day challenges of organic crop management for cost-effective real-world application, the book explores the biological control of diseases in 12 major crops. It focuses on the use of host plant resistance through transgenics and induced systemic resistance as a part of biological control. Topics covered include the role of biocontrol agents for signalling resistance, effective ecofriendly alternative to combat bacterial, fungal, and viral infestation, and transgenic crops in disease management.
| | |
| --- | --- |
| Title: | Biological Control of Crop Diseases |
| Editor: | Samuel S. Gnanamanickam |
| Edition: | 1st |
| Publisher: | Marcel Dekker, Inc. Now (CRC Press) |
| Length: | 452 pages |
| Size: | 2.46 MB |
| Language: | English |
Biological Control of Crop Diseases (Books in Soils, Plants & the Environment)
Author(s): Samuel S. Gnanamanickam
Series: Books in Soils, Plants & the Environment
Publisher: CRC Press, Year: 2002
ISBN: 0824706935