Home
Tags
Abraham pressman switching power supply design free download
Tag: abraham pressman switching power supply design free download
Switching Power Supply Design PDF Book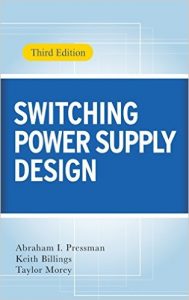 Switching Power Supply Design – 3rd Ed. by Abraham Pressman
Book Description:
Using this book as a guide, Pressman promises, even a novice can immediately design a complete switching power supply circuit. No other book has such complete instruction in one volume. Using a tutorial, how-to approach, Pressman covers every aspect of this new technology, including circuit and transformer design, using higher switching frequencies, new topologies, and integrated PWM chips. For this latest edition, Pressman has added in-depth discussion of power factor correction, high-frequency ballasts for fluorescent lamps, and low-input voltage power supplies for laptop computers.
Table of Contents:
Part I:Fundamental Switching Regulators
Buck, Boost, and Investor Topologies.
Push-Pull and Forward Converter Topologies.
Half- and Full-Bridge Converter Topologies.
Flyback Converter Topologies.
Current-Mode and Current-Fed Topologies.
Miscellaneous Topologies.
Part II: Magnetics and Circuits Designs.
Transformer and Magnetic Design.
Bipolar Power Translator Base Drives.
MOSFET Power Transistors and Input Drive Circuits.
Magnetic-Amplifier Postregulators.
Turnon, Turnoff Switching Losses and Snubbers.
Feedback-Loop Stabilization.
Resonant Converters.
Part III: Typical Switching Power Supply Warehouse.
Part IV: Newer Applications for Switching Power Supply Technique.
Power Factor, Power Factor Correction.
High-Frequency Power Sources for Fluorescent Lamps.
Low-Input-Voltage Regulators for Laptop Computers and Portable Electronics.
Abraham Pressman Switching Power Supply Design PDF
Author(s): Abraham I.Pressman
Publisher: The McGraw-Hill Companies, Inc., Year: 1999
ISBN: 0-07-116707-2