| | |
| --- | --- |
| Book Name: | [PDF] Satellite Basics for Everyone by C. Robert Welti |
| Free Download: | Available |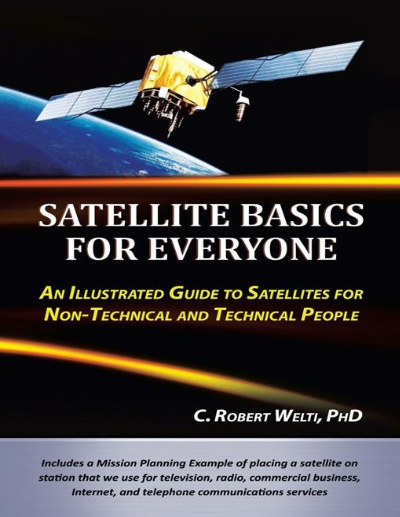 ---
Book Details :
Language
English
Pages
176
Format
PDF
Size
2.96 MB
---
Satellite Basics for Everyone by C. Robert Welti
---
Satellite Basics for Everyone by C. Robert Welti, Ph.D. PDF Free Download.
Author of Satellite Basics for Everyone PDF
---
C. Robert (Bob) Welti's career spans over fifty years in aerospace and software systems. He is in the space business since Sputnik.
His experience includes Engineer, Project Manager, Program Manager, Director, and Consultant on a military and commercial satellite, telecommunications, and missile programs. He worked on reconnaissance, interceptor, and communications satellites; the space shuttle; and the Minuteman ballistic missile.
He managed software development and maintenance for the U.S. Air Forces' Satellite Control Facility. At the Aerospace Corporation, he performed system engineering and proposal evaluation on many U.S. Air Force satellite programs.
He also evaluated many commercial companies for their software development and maintenance capabilities. He taught classes on project management, astrodynamics, digital electronics, engineering mathematics, and computer system design.
Bob earned his Ph.D. in Engineering from UCLA with a major in the self-developed field of "Space Vehicle Dynamics." His minor fields were Computers and Management. His dissertation is "Recursive Navigation and Guidance for the Midcourse Phase of Orbital Rendezvous."
He has an MSEE from USC, a BSEE from Columbia University, and a BA from Hofstra University. Also for two years, he learned about and gained hands-on experience in Marine Engineering while a midshipman at the United States Merchant Marine Academy (USMMA).
He now enjoys retirement living on a golf course with his wife Kem in the foothills of the California Gold Country between Sacramento and Lake Tahoe. Besides golf, he enjoys woodworking, oil painting, and spending time with his family
Satellite Basics Contents
---
Artificial Earth Satellites

Origin of Artificial Satellites

Satellites in Orbit

Satellite Ownership Costs

Satellite Launch

Satellite Launch Vehicles

Other Launch Systems

Vehicle Configurations

Launch Costs

Geostationary Communications Satellite

Geostationary Orbit

Satellite Communications Services

Ground Stations

Satellite Components

Mission Payload

Satellite Bus

Sample Communications Satellites

Satellite Motion

Kepler's Laws

Elliptical Orbits

Orbit Equations

Eccentricity

Simplifying Calculations

Mission Planning Example

The Mission

Parking Orbit

Geostationary Orbit

Transfer Orbit

Transfer Orbit Injection

Geostationary Orbit Injection

Achieving Longitude Station

Orbits Summary

Mission Planning Refinement

Orbit Inclination

Multiple Transfer Orbits

Station-Keeping

Propellant Requirements

Rocket Equation

Orbit Insertion Maneuvers

Station-Keeping

Attitude Control

Propellant Mass Summary

Total Mass Summary

Mission Optimization

Conclusions

Appendices

A-Unit Conversions

B-Longitude Distribution

C-Operators/Contractors

D-Launch Vehicles and Sites

E-Sample Communications Satellites

F-Earth Parameters
Preface to Satellite Basics for Everyone eBook
---
I was inspired to write this book after a presentation I gave to a group of retired men who have diverse backgrounds and work experiences, and know little about satellites.
My talk included a hypothetical mission planning task for placing a satellite in orbit and supporting it to perform its on-orbit mission.
Response to the presentation was overwhelming, and many of the members wanted more information.
From the beginning, I realized that my presentation had to be simple, clear, interesting, and entertaining so I included abundant illustrations, familiar terminology, and simple explanations.
For Satellite Basics for Everyone, I've developed even more of these materials, and hope to make satellite science as clear and understandable to you as it was for my audience of seniors, whatever your background, age, or work experience.
This book answers the following questions about satellites: What's a satellite? What are satellite missions? Who owns and operates satellites? Who builds satellites? How many satellites are in orbit? How close do they come to each other?
How much debris is in orbit? What's the risk of collision? How do you launch satellites into space? How do you control satellites? How much do satellites cost?
How do you put a satellite in orbit? What forces perturb the satellite? How do you keep a satellite in orbit? How do you keep the satellite oriented and pointing in the right direction?
When is the best time to make orbit maneuvers? How much propellant do you need for corrections and maneuvers? What determines satellite lifetime? What's the future of satellite technology?
I wrote this book for grade school, high school, and college students, aerospace workers, and people who have curious minds.
The main objective of this book is to stimulate broad interest in engineering and science. While looking at my book, my eight-year-old granddaughter, Julia, asked, "Are they going to replace the Hubble Space Telescope?" (The book says its estimated lifetime is until 2014.)
She also asked, "What does 'M' stand for?" I replied, "It stands for millions of dollars when used with the '$' sign." Then she exclaimed, "Wow! Satellites sure cost a lot of money." She continued to ask questions.
My friend can't wait to get a copy of it for her thirteen-year-old grandson who is interested in science. Another friend who is involved in getting free books for grade school students wants my book.
These examples show how it is a learning tool and a way to stimulate interest in satellites and science for grade school students. As young students, my friends and I found it difficult to decide on career fields because we didn't have sufficient information.
This book gives high school and college students an introduction to possible career field options. In hindsight, the development of satellites would have been easier and more efficient if all members of the satellite team had had a basic overall understanding of satellites and how they work.
This reflection is especially true for the times when I worked on the international Intelsat V communications satellite and other satellite programs.
Also, I noticed this same lack of overall satellite understanding when I managed satellite software development and maintenance for the U. S. Air Force Satellite Control Facility, and performed proposal evaluation and system engineering for U. S. Air Force satellite programs while at the Aerospace Corporation.
On one occasion while on an airplane, I was seated next to the United States Air Force Airman who was returning from a class on satellite intelligence resources.
We discussed my book and he said, "I wish I had had your book before I took my class." I showed my book to family and friends who knew little about satellites and how they worked.
They said they learned a lot. In summary, I wrote Satellite Basics for Everyone as clearly and understandably as possible for a wide audience. I hope you enjoy it.
Satellite basics for everyone PDF
Author(s): Welti, C. Robert
Publisher: iUniverse, Year: 2012
ISBN: 147592593X
Download Satellite Basics for Everyone by C. Robert Welti in PDF Format For Free.
Related Results : satellite basics for everyone,satellite basics for everyone pdf,
Related More Books
See More POST On : Engineering Books