| | |
| --- | --- |
| Book Name: | [PDF] Practical Functional Group Synthesis by Robert A. Stockland, Jr. |
| Category: | Organic Chemistry |
| Free Download: | Available |
Practical Functional Group Synthesis by Robert A. Stockland, Jr. :: When faced with a new reaction, chemists often stand in front of the bench asking themselves, "…OK, how am I going to do this?" During their education, scientists are taught how to predict the products of countless reactions "on paper." While these discussions are critically important, little time is devoted to making the connection between paper reactions and actually synthesizing a new compound. This is due, in part, to the large number of variations for each reaction. In many cases, synthetic chemists simply need a reasonable way to make a linkage or new compound. Often, the incorporation of functional groups can be accomplished by a range of catalysts and conditions. Given the myriad of reactions that are added to the literature every week, selecting a suitable approach for the synthesis of the desired compound can be a daunting process. This text provides the synthetic community with a collection of reactions for the synthesis of a wide range of functional groups through the formation of carbon–hetero element bonds. Special attention has been devoted to the inclusion of operationally straightforward reactions. For example, reactions that do not require the use of a glove box and can be carried out under an atmosphere of air are particularly attractive. In addition to conventionally heated reactions, a variety of microwave‐assisted processes have been included.
Chapter 1 provides an introduction to modern synthetic chemistry with emphasis on topics such as solvent selection, catalyst choice, and a discussion of common challenges associated with functional group synthesis. This chapter also includes a detailed discussion of how to adapt conventionally heated reactions to microwave‐assisted versions. Each of the remaining chapters is focused on a single element such as oxygen or nitrogen and is organized by the type of bond generated in the carbon–heteroelement bond‐forming step. In addition to general descriptions of the reactions, troubleshooting guides are included for each section and over 100 detailed preparations are included.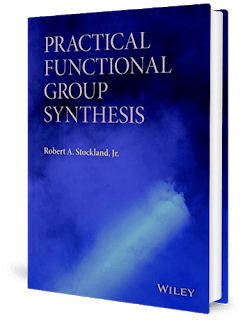 Practical Functional Group Synthesis by Robert A. Stockland, Jr.
| | |
| --- | --- |
| Title: | Practical Functional Group Synthesis |
| Editor: | Robert A. Stockland, Jr. |
| Edition: | Illustrated |
| Publisher: | Wiley Publications |
| Length: | 700 pages |
| Size: | 24.7 MB |
| Language: | English |
Book Description:
A practical handbook for chemists performing bond forming reactions, this book features useful information on the synthesis of common functional groups in organic chemistry.
– Details modern functional group synthesis through carbon-heteroelement (N, O, P, S, B, halogen) bond forming reactions with a focus on operational simplicity and sustainability. – Summarizes key and recent developments – which are otherwise scattered across journal literature – into a single source- Contains over 100 detailed preparations of common functional groups- Included 25 troubleshooting guides with suggestions and potential solutions to common problems.- Complements the text in enhanced ebook editions with tutorial videos where the author provides an introduction to microwave assisted chemistry
Practical functional group synthesis
Author(s): Robert A. Stockland Jr
Publisher: John Wiley and Sons, Year: 2016
ISBN: 978-1-118-61280-4
Related More Books