| | |
| --- | --- |
| Book Name: | [PDF] Medicinal Chemistry A Molecular and Biochemical Approach by Thomas Nogrady |
| Free Download: | Available |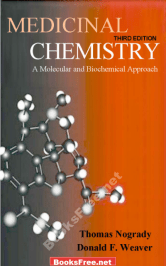 Medicinal Chemistry A Molecular and Biochemical Approach Third Version by Thomas Nogrady
Book Description:
Fully updated and rewritten by a basic scientist who is also a practicing physician, the third edition of this popular textbook remains comprehensive, authoritative and readable. Taking a receptor-based, target-centered approach, it presents the concepts central to the study of drug action in a logical, mechanistic way grounded on molecular and biochemical principles. Students of pharmacy, chemistry and pharmacology, as well as researchers interested in a better understanding of drug design, will find this book an invaluable resource. Starting with an overview of basic principles, Medicinal Chemistry examines the properties of drug molecules, the characteristics of drug receptors, and the nature of drug-receptor interactions. Then it systematically examines the various families of receptors involved in human disease and drug design. The first three classes of receptors are related to endogenous molecules: neurotransmitters, hormones and immunomodulators. Next, receptors associated with cellular organelles (mitochondria, cell nucleus), endogenous macromolecules (membrane proteins, cytoplasmic enzymes) and exogenous pathogens (viruses, bacteria) are examined. Through this evaluation of receptors, all the main types of human disease and all major categories of drugs are considered. There have been many changes in the third edition, including a new chapter on the immune system. Because of their increasingly prominent role in drug discovery, molecular modeling techniques, high throughput screening, neuropharmacology and genetics/genomics are given much more attention. The chapter on hormonal therapies has been thoroughly updated and re-organized. Emerging enzyme targets in drug design (e.g. kinases, caspases) are discussed, and recent information on voltage-gated and ligand-gated ion channels has been incorporated. The sections on antihypertensive, antiviral, antibacterial, anti-inflammatory, antiarrhythmic, and anticancer drugs, as well as treatments for hyperlipidemia and peptic ulcer, have been substantially expanded. One new feature will enhance the book's appeal to all readers: clinical-molecular interface sections that facilitate understanding of the treatment of human disease at a molecular level.
E-book Particulars :
Language
English
Pages
664
Format
PDF
Dimension
29.5 MB
---
There have been many adjustments in medicinal chemistry and molecular pharmacology for the reason that second version of this e-book was revealed in 1988. Accordingly, it has required intensive updating. This course of was initiated within the Chemistry Division of Queen's College, Kingston, Canada the place Dr. Nico van Gelder, an Adjunct Emeritus Professor, launched the now retired Thomas Nogrady to Donald Weaver, a medicinal chemist and medical neurologist. Collectively, Weaver and Nogrady undertook the problem of updating this e-book. On this approach the third version of Medicinal Chemistry was began and the 2 authors have labored collectively to make sure a continuity within the type and content material that has made this e-book well-liked amongst college students and researchers alike.
The areas of change on this new version are many and assorted. Since molecular modeling has assumed an more and more outstanding function in drug discovery, we've got expanded the dialogue of modeling strategies. Description of different new strategies corresponding to excessive throughput screening and purposes of genomics in drug design have additionally been added. By way of medicinal chemistry purposes, neuropharmacology has loved many advances previously decade; a lot new info from this area has been included.
In live performance with these advances, new therapies have been launched for Alzheimer's illness, Parkinson's illness, a number of sclerosis and epilepsy – these new therapies are explicitly mentioned within the third version. Rising problems like these of protein folding (e.g. Creutzfeldt-Jakob illness and different prion problems) are additionally thought of. Chapter 5 on hormonal therapies has been totally up to date and re-organized. A whole new chapter on the immune system has been added (chapter 6), reflecting the elevated curiosity in therapeutic molecular manipulation of immunity. Rising enzyme targets in drug design (e.g. kinases, caspases) are discusses on this version.
Latest info on voltage-gated and ligand-gated ion channels has additionally been integrated. The sections on antihypertensive, antiviral, antibacterial, anti-inflammatory, antiarrhythmic, and anti-cancer brokers, in addition to therapies for hyperlipidemia and for peptic ulcer, have been considerably expanded. Regardless of these many adjustments, the general construction and philosophy of the e-book stay unchaged. Therapeutic brokers are organized in response to their targets – the conceptual centerpiece of the primary two editions. The 9 chapters of the third version are grouped in two components:
the essential ideas of medicinal chemistry (chapters 1–3), and purposes of medicinal chemistry from a target-centered viewpoint (chapters 4–9). Given this organizational construction, the e-book is just not a listing of medication. It doesn't current medicinal chemistry in a "phone listing of medication" approach. Quite, it emphasizes the understanding of mechanisms of drug motion, which incorporates drug and receptor construction. The e-book's target-centered philosophy services a transparent, mechanistic understanding of how and why medicine work. This could give college students a conceptual framework that can allow them to proceed studying about medicine and drug motion lengthy after they've left college.
As with the primary and second editions, this textual content is aimed primarily at college students of pharmacy, pharmacology and chemistry who're concerned with drug design and improvement. It gives the core of biochemical- and molecular-level eager about medicine wanted for a fundamental medicinal chemistry course. One other new characteristic of this version is designed to boost the e-book's attraction to all readers: the a number of sections on the "Medical–Molecular Interface." These sections strengthen the e-book's medical relevance by making it simpler to know the remedy of human illness at a molecular degree.
Medicinal Chemistry: A Molecular and Biochemical Approach
Author(s): Thomas Nogrady, Donald F. Weaver
Publisher: Oxford University Press, USA, Year: 2005
ISBN: 9780195104561
Download Medicinal Chemistry A Molecular and Biochemical Approach Third Version by Thomas Nogrady PDF free.
Related More Books