| | |
| --- | --- |
| Book Name: | [PDF] Construction Project Administration 10th Edition by Fisk and Reynolds |
| Category: | Civil Engineering Books |
| Free Download: | Available |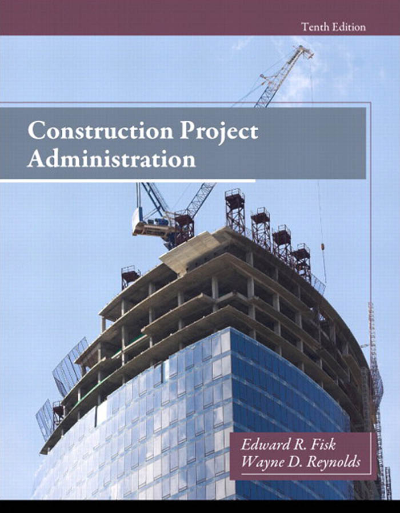 Book Details :
Language
English
Pages
402
Format
PDF
Size
16.5 MB
Construction Project Administration 10th Edition by Fisk and Reynolds
---
Construction Project Administration 10th Edition by Edward R. Fisk, PE and Wayne D. Reynolds, PE PDF Free Download
Authors of Construction Project Administration PDF
---
Edward R. Fisk, PE, LS, was a construction consultant in Orange, California. He was a licensed civil and structural engineer, land surveyor, and licensed general contractor and held licenses in 13 states.
Before becoming an independent consultant, he was president of Gleason, Peacock, & Fisk, Inc., of Brea, CA, construction consultants; vice president of Lawrence, Fisk, & McFarland, Inc., engineers, of Santa Barbara, CA; and vice president of Construction Services for Wilsey & Ham, engineers, Foster City, CA.
Prior to that he served as Corporate Director of Construction Management for J.M. Montgomery Engineers (now MWH Global), and VTN Consolidated, Inc., and was an Engineer and a Field Engineer for Bechtel Corp., Power Division.
He had extensive experience in both the public and private sectors. He was a Life Fellow of the American Society of Civil Engineers and former chairman of its Construction Division and was a Fellow of the National Academy of Forensic Engineers.
He taught short courses statewide at the University of California, Berkeley, Institute of Transportation Studies, and at the University of Washington, Engineering Professional Programs, Seattle, for many years.
He lectured nationally and internationally for the American Society of Civil Engineers until he succeeded by coauthor Wayne Reynolds.
Wayne D. Reynolds, PE, is a Professor and Program Coordinator in the Department of Applied Engineering and Technology at Eastern Kentucky University.
He teaches or has taught introduction to construction, project organization, and supervision, scheduling and cost control, contracts and bidding, quantity and cost estimating, engineering economy, statics, structures, and soils in the Construction Management program.
He also lectures nationally and internationally for the American Society of Civil Engineers. He received his B.S. degree from the U.S. Military Academy and an M.S. degree in civil engineering from Ohio State University.
Mr. Reynolds has experience in design and construction projects including transportation facilities, navigation structures, flood protection, and institutional buildings, and has served as Inspector, Project Engineer, Assistant Resident Engineer, Project Manager, Deputy District Engineer, and Contracting Officer.
He was an Assistant Professor of Civil Engineering at the U.S. Air Force Academy and completed service in the U.S. Army Corps of Engineers as a Lieutenant Colonel. He is a member of the American Society of Civil Engineers and the Associated Schools of Construction.
Construction Project Administration Contents
---
 

Chapter 1 The Project Delivery System

 Chapter 2 Responsibility and Authority

 Chapter 3 Resident Project Representative Office Responsibilities

 Chapter 4 Documentation: Records and Reports

 Chapter 5 Electronic Project Administration

 Chapter 6 Specifications and Drawings 

 Chapter 7 Using the Specifications in Contract Administration

 Chapter 8 Construction Laws and Labor Relations

 Chapter 9 Construction Safety

 Chapter 10 Meetings and Negotiations 

 Chapter 11 Risk Allocation and Liability Sharing 

 Chapter 12 Preconstruction Operations

 Chapter 13 Planning for Construction

 Chapter 14 CPM Scheduling For Construction 

 Chapter 15 Construction Operations

 Chapter 16 Value Engineering 

 Chapter 17 Measurement and Payment  

 Chapter 19 Changes and Extra Work

 Chapter 18 Construction Materials and Workmanship

 Chapter 20 Claims and Disputes 

 Chapter 21 Project Closeout
Preface to Construction Project Administration eBook
---
New To Construction Project Administration 10th Edition
Mr. Fisk's original preface still remains applicable to
this, the tenth edition: The principal objective of this book is to provide
those of us who are active in the construction industry with a single source of
information that will help address the responsibilities and risks that we are likely
to encounter.
The principles covered in this book have been gleaned from
hundreds of projects worth billions of dollars over hundreds of years of
construction. They are applicable to horizontal as well as vertical
construction; small and large projects; and government, commercial, industrial,
and private construction.
All may not be applicable to a particular project,
but they remain valid principles nonetheless. The revisions in this edition
were necessary because of changes in technology and industry practices as well
as shifts in the way that owners choose to have projects constructed.
There
have been some changes made as a result of user feedback and chapters
reorganized in order to improve the flow of the material.
The material covering Preconstruction Conferences in
Chapters 10 and 12 have been combined into Chapter 12 to minimize redundancy and
to improve readability.
Since so many projects are now being constructed
using the Design-Build (DB) project delivery system, it became appropriate to
elaborate further on how DB impacts the principles discussed throughout the
book.
With almost universal usage of computers to schedule projects, arrow
diagramming has fallen into disuse and hence most of the arrow diagramming the discussion was removed from Chapter 14.
Leadership in Energy and
Environmental Design (LEED) has become so prevalent in the construction industry that the author felt it appropriate to address its impacts on material
already presented in the book.
The National Pollutant Discharge Elimination
System (NPDES) was added to Chapter 8 because those permits are required on the vast majority of construction projects and a Resident Project Representative
needs to understand them
Experience Modification Rating (EMR) was also added
to Chapter 8 to further emphasize the importance of safety on all construction
sites.
Due to the widespread use of electronic project administration on
construction projects, more emphasis was placed on electronic reporting and
usage of electronic devices.
There have been some changes to chapter
questions in order to be consistent with the revised text material.
Principal contributors to this tenth edition were Mr. Scott
Arias PMP, PSP, CPC, and Dr. Bryan Dyer PE, PLS, LEED AP, both professors in
the Construction Management program at Eastern Kentucky University.
Mr. Arias,
President of ACE Consulting, Nicholasville, KY, brought his considerable
scheduling expertise and worldwide construction experience to this revision,
and Dr. Dyer, President of Dyer and Associates, Richmond, KY, contributed
extensive insights into Design-Build construction as well as LEED.
I owe them
both a great deal of gratitude for their significant contributions to improving
the breadth and depth of this edition. I also wish to thank my wife, Karen
Reynolds, for her patience and support, while I  worked on this revision.
And last, but not least, I wish to thank my mentor, Mr. Ed Fisk, who taught me
so much and gave me the opportunity to keep his vision alive in this textbook.
He is sorely missed. While many people have contributed to writing this book
throughout the years, I alone take responsibility for any errors found in this
edition. The author is grateful to the many contributions made since this book
was first published.
Contributors to previous editions included: Julius (Jim)
Calhoun, Esq., Asst. General Counsel for Montgomery-Watson in Pasadena, CA
(ret.); Gary L. McFarland, PE, and Charles H. Lawrance, PE, President and
Vice-President, respectively, of Lawrance, Fisk, & McFarland, Inc. Of
Santa Barbara, CA; Wendell Rigby, PE,  former Senior Civil Engineer of the
City of Thousand Oaks, CA; Albert Rodriguez, CPCU, ARM, President, Rodriguez
Consulting Group, Inc.
The author would also like to thank the reviewers of this edition for their helpful
insights: Scott Arias and Bryan Dyer, Eastern Kentucky University; Denise
Gravitt, Western Illinois University; and Matthew W. Nawn, Frederick Community
College.
Construction Project Administration PDF
Author(s): Edward R. Fisk; Wayne D. Reynolds
Publisher: Pearson, Year: 2013
ISBN: 0132866730
Download Construction Project Administration 10th Edition by by Edward R. Fisk & Wayne De Reynolds PDF Free
Related Results : construction project administration 10th edition,construction project administration 10th edition pdf,construction project administration 10th edition pdf free,construction project administration 10th edition pdf free download,construction project administration 10th edition solutions
Related More Books
See More POST On : Engineering Books