| | |
| --- | --- |
| Book Name: | [PDF] Concrete Technology Theory and Practice |
| Category: | Civil Engineering Books |
| Free Download: | Available |
Concrete Technology Theory and Practice PDF by MS SHETTY Download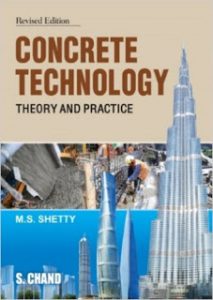 Author: MS Shetty
Concrete Technology: Theory and Practice gives students of Civil Engineering a thorough understanding of all aspects of concrete technology from first principles. It covers types of Cement, Admixtures, Concrete strength, durability and testing with reference to national standards. For more than 30 years, the book has evolved to be a must-read for all students of the subject and has also been a useful reference book for practicing engineers.
Cement mortar and concrete are the most widely used construction materials. It is difficult to point out another material of construction which is as versatile as concrete. It is the material of choice where strength, permanence, durability, impermeability , fire resistance and abrasion resistance are required. It is so closely associated now with every human activity that it touches every human being in his day to day living.
Cement concrete is one of the seemingly simple but actually complex material. Many of its complex behaviours are yet to be identified to employ this material advantageously and economically. The behaviour of concrete with respect to long-term drying shrinkage, creep, fatigue, morophology of gel structure, bond, fracture mechanism and polymer modified concrete, fibrous concrete are some of the areas of active research in order to have a deeper understanding of the complex behaviour of these materials.
The book is written mainly to give practical bias into concrete-making practices to students of engineering and site engineers, practical bias needs good theoretical base. Approach to practical solution should be made on the basis of sound theoretical concept. Sometimes, theory, however good, may not be applicable on many practical situations. This is to say, that particularly in concrete-making practices both theory and practice go hand in hand more closely than in many other branches of Engineering mainly because it is a site made material.
Book Content
Cement
Types Of Cement And Testing Of Cement
Aggregates & Testing Of Aggregates
Water
Admixtures & Construction Chemicals
Fresh Concrete
Strength Of Concrete
Elasticity, Creep & Shrinkage
Durability Of Concrete
Testing Of Hardened Concrete
Concrete Mix Design
Special Concrete & Concreting Methods
Get PaperBook : Concrete Technology
Concrete Technology: Theory and Practice PDF
Author(s): M. S. Shetty
Series: Civil Engineering for All
Publisher: S. Chand & Co.
Download Concrete Technology Theory and Practice PDF
Related Results : concrete technology – theory & practice – a.m. neville,concrete technology theory and practice,concrete technology theory and practice by m s shetty pdf,concrete technology theory and practice by m.s. shetty,concrete technology theory and practice by m.s. shetty pdf free downloadconcrete technology theory and practice by ms shetty,
Related More Books
See More POST On : Engineering Books