| | |
| --- | --- |
| Book Name: | [PDF] Bioactive Carboxylic Compound Classes – Pharmaceuticals and Agrochemicals by Lamberth and Dinges |
| Category: | Organic Chemistry |
| Free Download: | Available |
Bioactive Carboxylic Compound Classes – Pharmaceuticals and Agrochemicals by Lamberth and Dinges :: Three years ago, shortly after the publication of our first book "Bioactive Heterocyclic Compound Classes," we had been contacted by several readers, but also contributors, who praised the concept of combining all important heterocyclic active ingredient classes with short, educational, similarly structured chapters within one book. This positive feedback encouraged us to apply the same concept also to the second major group of functional groups, which play an important role in pharmaceuticals and agrochemicals. These are, besides the already covered heterocycles, the derivatives of carboxylic acids, which means not only the acids themselves but also their esters, amides, ureas, carbamates, hydrazides, thioesters, and so on.
According to our definition, such a carboxylic compound class is made up of three or more commercialized active ingredients that (i) bear the same carboxyl functionality, means acyclic C==O functions except aldehydes and ketones; (ii) possess the same or at least a similar scaffold and a similar substitution pattern; and (iii) have the same mode of action. To be able to cover the most important carboxylic active ingredient families in medicine and crop protection within one book, we had to focus. Therefore, we declared the following functional groups or compound classes to be "out of scope": (i) all functional groups based on a C==S motif; (ii) cyclic carboxylic compounds with a C==O group (lactones, lactams, diketopiperazines), as they have been covered already in "Bioactive Heterocyclic Compound Classes"; (iii) sulfonic acid derivatives with a SO2 function; and (iv) peptides and macrocycles.
As it was already the case for "Bioactive Heterocyclic Compound Classes," also the chapters of this book are divided into the same five sections: (i) introduction, (ii) history, (iii) synthesis, (iv) mode of action, and (v) structure–activity relationship. Only the agrochemical chapters possess an additional section "biological activity" to describe the target spectrum of the active ingredients.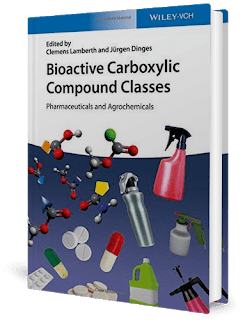 Book Description:
Following the successful and proven concept used in "Bioactive Heterocyclic Compound Classes" by the same editors, this book is the first to present approved pharmaceutical and agrochemical compounds classified by their carboxylic acid functionality in one handy volume.
Each of the around 40 chapters describes one or two typical syntheses of a specific compound class and provides concise information on the history of development, mode of action, biological activity and field of application, as well as structure-activity relationships. In addition, similarities and differences between pharmaceuticals and agrochemicals are discussed in the introduction.
Written by a team of experts in the field, this is a useful reference for researchers in academia and chemical or pharmaceutical companies working in the field of total synthesis and natural product chemistry, drug development, and crop protection research
Bioactive Carboxylic Compound Classes – Pharmaceuticals and Agrochemicals by Lamberth and Dinges
Title:

Bioactive Carboxylic Compound Classes – Pharmaceuticals and Agrochemicals

Editor:

Clemens Lamberth
Jürgen Dinges

Edition:

1st

Publisher:

Wiley – VCH

Length:

529 pages

Size:

13.1 MB

Language:

English
Bioactive carboxylic compound classes: pharmaceuticals and agrochemicals
Author(s): Dinges, Jürgen; Lamberth, Clemens
Publisher: Wiley-VCH, Year: 2016
ISBN: 3527339477
[PDF] Bioactive Carboxylic Compound Classes – Pharmaceuticals and Agrochemicals by Lamberth and Dinges Table Of Contents
Different Roles of Carboxylic Functions in Pharmaceuticals and Agrochemicals / Clemens Lamberth, Jürgen Dinges —
Neurology. Carboxylic Ester Containing Norepinephrine-Dopamine Reuptake Inhibitors (NDRIs) / David J O'Neill —
Analgesic and Anesthetic Amides / Thomas Erhard —
Cardiovascular Diseases. Fibrate Acids and Esters for the Treatment of Hyperlipidemia (PPAR[alpha] Activators) / Gavin O'Mahony —
Antiplatelet 2-Hydroxy Thienopyridine Ester Derivatives for the Reduction of Thrombotic Cardiovascular Events / Modesto Candia, Nunzio Denora, Cosimo D Altomare —
Carboxylic Acids and Lactones as HMG-CoA Reductase Inhibitors / Xiang-Yang Ye, Pratik Devasthale —
Angiotensin II Receptor Antagonists with Carboxylic Functionalities in Cardiovascular Disease / Steve Swann, Simone Bigi —
Carboxylic Acid Containing Direct Thrombin Inhibitors for the Treatment of Thromboembolic Diseases / Harry R Chobanian, Mathew M Yanik —
Infectious Diseases. Tetracycline Amide Antibiotics / Ingo Janser —
Carboxylic-Acid-Based Neuraminidase Inhibitors / Stacy Van Epps —
Oxazolidinone Amide Antibiotics / Cristiana A Zaharia, Saverio Cellamare, Cosimo D Altomare —
Sovaldi, an NS5B RNA Polymerase-Inhibiting Carboxylic Acid Ester Used for the Treatment of Hepatitis C Infection / Alastair Donald —
Metabolic Diseases. Dipeptidyl Peptidase-4 (DPP-4)-Inhibiting Amides for the Treatment of Diabetes / Naomi S Rajapaksa, Xiaodong Lin —
Oncology. Ibrutinib, a Carboxylic Acid Amide Inhibitor of Bruton's Tyrosine Kinase / Timothy D Owens —
Anti-Inflammatory Drugs. Fumaric Acid Esters / Tony S Gibson —
Carboxylic Acid Nonsteroidal Anti-Inflammatory Drugs (NSAIDs) / Yan Lou, Jiang Zhu —
Carboxylic-Acid-Containing Antihistamines / Irini Akritopoulou-Zanze —
Corticosteroid Carboxylic Acid Esters / Maurizio Franzini —
Ophthalmology. Prostaglandins with Carboxylic Functionalities for the Treatment of Glaucoma / Fabrizio Carta, Claudiu T Supuran —
Weed Control. Herbicidal Carboxylic Acids as Synthetic Auxins / Paul Schmitzer, Jeffrey Epp, Roger Gast, William Lo, Jeff Nelson —
Chloroacetamide Herbicides / Clemens Lamberth —
Carboxylic-Acid-Containing Sulfonylurea Herbicides / Atul Puri, Paul H Liang —
Amino Acids as Nonselective Herbicides / Stephane Jeanmart —
Herbicidal Aryloxyphenoxypropionate Inhibitors of Acetyl-CoA Carboxylase / William G Whittingham —
Pyridines Substituted by an Imidazolinone and a Carboxylic Acid as Acetohydroxyacid-Synthase-Inhibiting Herbicides / Dale Shaner —
Carboxylic-Acid-Containing Protoporphyrinogen-IX-Oxidase-Inhibiting Herbicides / George Theodoridis —
Disease Control. Phenylamide Fungicides / Laura Quaranta —
Complex III Inhibiting Strobilurin Esters, Amides, and Carbamates as Broad-Spectrum Fungicides / Clemens Lamberth —
Scytalone-Dehydratase-Inhibiting Carboxamides for the Control of Rice Blast / Andrew E Taggi —
Carboxylic Acid Amide Fungicides for the Control of Downy Mildew Diseases / Clemens Lamberth —
Fungicidal Succinate-Dehydrogenase-Inhibiting Carboxamides / Harald Walter —
Insect Control. Esters and Carbamates as Insecticidal Juvenile Hormone Mimics / Sebastian Rendler —
N-Benzoyl-N'-Phenyl Ureas as Insecticides, Acaricides, and Termiticides / Peter Jeschke —
Pyrethroid Esters for the Control of Insect Pests / Régis Mondière, Fides Benfatti —
Ecdysone Receptor Agonistic Dibenzoyl Hydrazine Insecticides / Ottmar F Hüter —
Diamide Insecticides as Ryanodine Receptor Activators / André Jeanguenat.
Related More Books