| | |
| --- | --- |
| Book Name: | [PDF] Basic Civil Engineering by BC Punmia |
| Category: | Civil Engineering Books |
| Free Download: | Available |
Basic Civil Engineering by BC Punmia is designed to enrich the preliminary conceptual knowledge about civil engineering to the students of non-civil branches of engineering. The coverage includes materials for construction, building construction, basic surveying and other major topics like environmental engineering, geo-technical engineering, transport traffic & urban engineering, irrigation and water supply engineering and CAD.
Table of Contents: Unit in chapter 1.Stoneschapter 2.Brickschapter 3.Timberchapter 4.Glassunit II chapter 5.Cementchapter 6.Cement mortarchapter 7.Cement concrete chapter 8.Rcc, PSC and ferro-cementchapter 9.Steelunit III chapter 10.Fundamentals of surveyingchapter 11.Chain survey chapter 12.Compass survey chapter 13.Plane table surveyingunit IV chapter 14.Levellingchapter 15.Contouringunit chapter 16.Building plans chapter 17.Foundations chapter 18.Water Supply and sanitation.
This book, first published in 1984 and entering into Tenth Edition, contains 32 chapters on various aspects of Building Construction, including the one on Earthquake Resistant Buildings. Building Construction is a traditional science which deals with the modern methods of sound construction, incorporating appropriate use of materials, sufficient strength, stability and performance, maximum utility and good proportion and grace. The aim of this book is to acquaint Civil Engineers, Architects, Builders, Contractors etc. with basic principles as well as current design practices in the construction of buildings. The book is based on current construction practices prevalent in India, incorporating latest Indian Standard Recommendations. The basic construction features as well as design details have been profusely illustrated through neat sketches.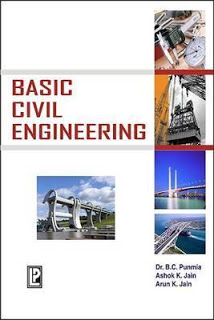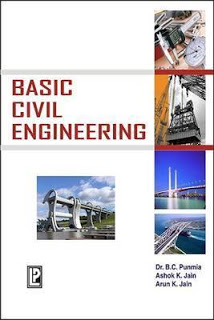 Basic Civil Engineering by BC Punmia
BOOK CONTENT :
INTRODUCTION
RCC PSC AND FERROCEMENT
STEEL
CHAIN SURVEY
COMPASS SURVEY
PLANE TABLE SURVEYING
INTERSECTION GRAPHIC TRIANGULATION
LEVELING
CONTOURING
FOUNDATIONS
ISOLATED FOOTING OR PAD FOOTING
See More Related Basic Civil Engineering
Basic Civil Engineering by U. A. Bakshi
Basic Civil Engineering by C. L. Wadhwa
Basic Civil Engineering by SatishGopi
Basic Civil Engineering by S. S. Bhavikatti
Basic Civil Engineering by BC Punmia

Related Results : Basic Civil Engineering,Basic Civil Engineering by B.C. Punmia,
Related More Books
See More POST On : Engineering Books