| | |
| --- | --- |
| Book Name: | [PDF] Advances in Heterocyclic Chemistry, Volume 34 by Alan R. Katritzky |
| Category: | Organic Chemistry |
| Free Download: | Available |
Advances in Heterocyclic Chemistry, Volume 34 by Alan R. Katritzky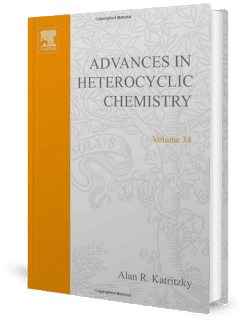 | | |
| --- | --- |
| Title: | Advances in Heterocyclic Chemistry, Vol. 34 |
| Editor: | Alan R. Katritzky |
| Volume: | 34th |
| Publisher: | Elsevier Publications |
| Length: | 461 pages |
| Size: | 15.4 MB |
| Language: | English |

Description of Advances in Heterocyclic Chemistry Volume 57
Pyrans, thiopyrans, and seleno pyrans are comprehensively reviewed by Kuthan in the first unified treatment of this subject. The triazolopyridines were last reviewed in 196 1: the chemistry of these five heterocyclic systems is covered by Jones and Sliskovic.
Meisenheimer complexes from heteroaromatic compounds have been intensively investigated in the last 20 years, and the field has now been summarized by Illuminati and Stengel of the Rome group, who have contributed much to this area.
Advances in Heterocyclic Chemistry Volume 34 of this series contains a survey of 2H- and 3H-pyrroles, nonaromatic isomers of the common IH-pyrroles. The present volume includes two chapters on 3H- and 4H-pyrazoles, the nonaromatic isomers of "normal" 1H-pyrazoles, by Sammes and the series editor.
Advances in Heterocyclic Chemistry, Vol. 34
Author(s): Alan R. Katritzky (ed.)
Publisher: Elsevier, Academic Press, Year: 1983
ISBN: 978-0-12-020634-6
[PDF] Advances in Heterocyclic Chemistry, Volume 34 by Alan R. Katritzky Table Of Contents
Editorial Advisory Board
Page ii
Edited by
Page iii
Copyright page
Page iv
Contributors
Page vii
Preface
Page ix
Alan R. Katritzky
The 3H-Pyrazoles Original Research Article
Pages 1-52
Michael P. Sammes, Alan R. Katritzky
The 4H-Pyrazoles Original Research Article
Pages 53-78
Michael P. Sammes, Alan R. Katritzky
The Chemistry of the Triazolopyridines Original Research Article
Pages 79-143
Gurnos Jones, D. Robert Sliskovic
Pyrans, Thiopyrans, and Selenopyrans Original Research Article
Pages 145-303
J. Kuthan
The Formation of Anionic σ-Adducts from Heteroaromatic Compounds: Structures, Rates, and Equilibria Original Research Article
Pages 305-444
G. Illuminati, F. Stegel
Cumulative Index of Titles
Pages 445-450
Related More Books